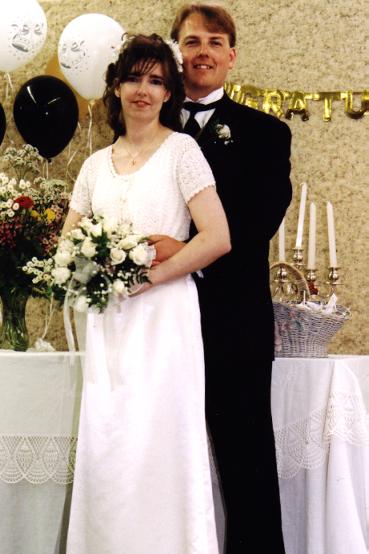 ---
My husband and I honeymooned in Aruba at the Marriott resort, in July in the late 1990s. It poured rain all day during our wedding - thank heavens we had a Caribbean holiday planned to cheer us up! We overnighted in Toronto and had to get up at 3 a.m. to catch our early flight. Couldn't even sleep on the plane because I was too excited and didn't want to miss seeing Aruba from the air. Took about a million aerial shots of Palm Beach, etc.
When we stepped off the plane, the air felt like a blast furnace, it was so hot! During our bus ride to the resort, we were starting to wonder if this was the same place described on the Aruba bulletin board - it was hot, dusty, the sand was the weirdest shade of yellow, there was almost no grass to be seen anywhere, upkeep of buildings in some areas did not look great and the scenery on the way to the resort was not particularly pretty. We live on a small island in Canada which is very green and picturesque, with Cape Cod-like beaches, and it was just a big adjustment - like comparing apples and spatulas, just a very different environment than we were used to.
After we stopped expecting it to be like home, we soon came to find the surroundings very interesting, especially after our island bus tour later in the week. We were informed on the tour that construction materials have to be imported, except for cement (that's produced locally in Aruba), so the buildings and fences are almost all made from cement blocks rather than decorative woods. Also, very few homes other than those owned by doctors and lawyers, etc., have grass lawns. The landscape on the north side is quite distinct - very much like what I picture Mars to look like, barren, red-soiled, and very lunar-like. Of course, the beach areas were beyond beautiful and some downtown malls had very decorative Dutch architecture.
The water was crystal clear, warm as bathwater, and the most lovely shades of blue and green. Stories of seaweed and murky waters have been greatly exaggerated. In some areas the sand on the bottom felt a little slimy, but that is just because the sand is a different consistency in different areas. The sand at Marriott was a little coarse, sand up past Fisherman's Huts was finely chopped coral and shell bits. Sonesta Island's sand was powder-fine and very soft! The sand under the water in some areas was more like clay or silt, giving it a slimy feeling. Just wear swim socks if this would bother you. Also, the water is very salty - stings your eyes - and very buoyant! I am very skinny and don't float - ever - but I floated like cork here. If you plan on snorkelling, you will not need a life vest or anything to help you float, trust me.
We stayed at the Marriott and I have never had such a nice hotel room! The bathroom was enormous, the balcony was huge and angled toward the water. We checked in at noon and even though check-in time is not until 4 p.m. they got our room ready for us and we had only about a 10 to 15 min. wait. Staff is very friendly, but make sure if you have an important question to ask more than one employee because you will get different answers from different employees. For instance, we were told to meet in the lobby at 10 a.m. for our island bus tour; at 9:50 we asked at the conceirge desk and were told "no, no, you have to be outside the front doors". We had an activities pamphlet for July which said there were Casino Tips at 6 p.m. ("ask at the casino") We asked at the casino and they had no idea what we were talking about. They said there were no scheduled tips, just come down whenever it was not busy and ask questions at the tables. We decided at the spur of the moment one day that we'd like to try the Discover Scuba and Snorkel at the pool at 10 a.m. (pamphlet said it was a "free underwater experience" and to meet at the pool), so we looked around the pool first to see if anyone was there, then we checked at the conceirge desk and were told "no, there is no scuba/snorkel lesson, there are no instructors, they are all on vacation - check with Red Sail Sports - they can do it" (for $70). Folks on the bulletin board suggested getting the honor bar emptied to use it to cool your own stuff - hotel wouldn't do it. None of this was a big deal, though, we just swam instead and enjoyed ourselves. Just remember - if it's important to you check early and double-check with someone else.
The pool officially closes around 6 or 7 p.m. for the staff to dump chemicals in the pool. It's okay to swim after this as long as you stay away from the waterfall end of the pool and swim in the section closest to the beach. The towel hut closed at various times between 6 and 8 p.m. but you can pass in your towels in the morning if they are closed. There's no need to get up early to reserve a beach hut. There is a staff member who will find a vacant hut for you and set up your chairs if you need more. We never had a problem getting a hut, there were always at least 2 or 3 empty out of 60 some huts.
We didn't get to do half the stuff we had planned - missed visiting Eagle Beach and Manchebo Beach, missed all of the water activities like parasailing, sunset cruises, etc., because we were too lazy once we got under a beach hut to get up and do anything. Make sure to make reservations early for everything - we couldn't get on the Atlantis Submarine because it was booked up solid for the last few days of our trip. We did see the Jewel Box Revue at La Cabana's Casino and highly recommend it. Just don't sit in the front unless you are thick-skinned (you will get picked on and insulted as part of the show).
We did not rent a car at all and were quite glad after seeing how the traffic behaved. We took the bus wherever we needed to go and only once did we have to wait more than 10 minutes for the bus. We almost never saw any police cars patrolling, cars drove way past the speed limit, passed on all sides, and honked instead of signalling. There were crosswalk lights at all intersections - none of which worked - so to cross the street, you just had to step out and hope traffic stopped for you. Wherever the bus didn't take us, a taxi did, or we visited on the island bus tour, plus we didn't have to worry about finding a place to park or about someone breaking into the car. I would recommend the buses instead of renting.
We loved Sonesta Island. It cost $25 per person and included lunch and a drink. There was wildlife everywhere - parrots at the restaurant, flamingos on the adult beach section, iguanas, and fish everywhere. We snorkelled at Baby Beach and Sonesta and saw many more fish at Sonesta. There is a large school of fish that seems to live in the adult beach lagoon, halfway out and off to the left. We swam with them for about an hour or two and it was worth the whole price of the vacation! It just can't be described to float quietly among 50 to 100 fish - they rarely moved outside this certain range of water unless we made a lot of sudden movements. Sonesta Island is right offshore of the airport, though, so it can be noisy for a few minutes when a plane comes in, but it was very tropical and private feeling. Also, the shuttle boat kicks up a lot of spray, so try to sit under or near the front covered section.
As far as restaurants go, I'm a very picky eater (a chicken/burger/fries kind of gal) so we didn't get too experimental. We ate downtown at Iguana Joe's - very good grilled chicken. We ate at the Hyatt's Ruinas del Mar - the food was too fancy for me but we loved the atmosphere and watching the swans/fish/turtles in the lagoon. Plus, they served the best homemade bread I've ever had (free, hot loaves - we had 2 loaves). Very expensive for our usual budget - our dinner was $60+ with no alcoholic drinks, and we had the more inexpensive dishes. Well worth the ambiance, though. The rest of the time we ate at Wendy's, Marriott's beachside Waves place and Marriott's La Vista. Here's a hint - when you're leaving for the airport, eat before you go! Their restaurant doesn't open until 11 a.m. and their snack place inside the departure area sucks beyond words.
We checked out some of the hotels between Marriott and Hyatt, and La Cabana - Marriott and Hyatt are by far the plushest - Marriott wins out due to their large, large balconies. Holiday Inn looks like a throwback from the seventies, but they had the tallest, most elegant palm trees on the beach. We swam there for a while - saw quite a few topless here and at Sonesta Island only. La Cabana looked like a crowded, child-filled resort. Also, Eagle Beach across from La Cabana and downwards toward Costa Linda was quite crowded the times we drove by on the bus - just as crowded as Palm Beach despite reports to the contrary.
For a really private swim, try around Fisherman's Huts north of Marriott. There's lots of windsurfers, but around 4 pm or so, the area was empty. We had a great swim there in very shallow water. Farther north is an area great for picking shells. Word of caution, however - Customs will not let you take coral, rocks, and certain kinds of shells across the border if they know you're carrying them.
Since we were honeymooning, we didn't do a lot of the local activities (next time :) ), but we had a lovely, relaxing vacation in a place where people were friendly and we felt safe everywhere. Who cares if the countryside looks dusty and barren on the drive by if you're heading for the beach to sit under beautiful palm trees and look out over green sparkling water? What matters is not what resort you stay at, which activities you sign up for, which restaurant you eat at - what matters is enjoying the unique and beautiful surroundings with the ones you love. To all fellow Aruba travellers - enjoy the sun and sea, and sip a fruity drink for us!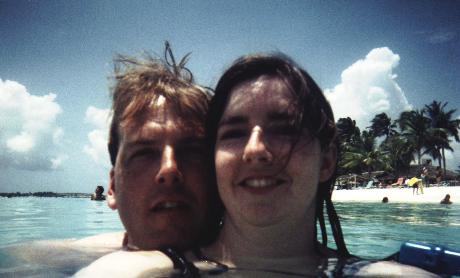 Pasa bon dia (Have a good day)!



Why Pick Aruba? | General Info | Resorts | Restaurants | FAQ | Things to Do | What to Pack | Aerial Photos | Happy Hours | Trip Report | Thanks | Links | Site Map | Home |
---
This site went online 1999.
Photos by Patti MacK copyrighted 1999 and may not be used without permission.
DISCLAIMER

As information may not always be up-to-date, you are advised to use it as a guideline only. You will find e-mail and website addresses, as well as phone and fax #s included on this site - please use them to contact the particular resort/restaurant/business in person to confirm times, prices, and details. The webmaster, site owner, and Internet provider assume no responsibility for any damages or claims resulting in use of information contained in this site. If, in spite of every precaution, any copyrights have been infringed in this site or any borrowed photo uncredited, your notification with respect to photo credit or removal will be greatly appreciated.