ARUBA


---
---
Resort Info
J. E. Irausquin Blvd. 55, P.O.Box 564, Oranjestad
Phone # 297 8 23444, Reservation fax # 297 8 32446
Ike Cohen, Owner/General Manager
Theo Vander Post, Assistant Managing Director, fax # 297 8 33589


They also have a reservation office in the USA: toll free # is 800-223-1108, regular # is 310-440-4225, USA fax # is 310-440-4220

This resort is located on Manchebo beach next to the Bucuti Resort. It is a small, moderately-priced European style, owner operated resort which prides itself on its excellent service reputation and its intimate, cozy atmosphere. I, personally, can vouch for its excellent attention to customer service. Although I stayed at a competitor's resort, management went way out of their way to give me extensive help with this page, offering photos and detailed information. I extend my sincerest thanks and advise anyone looking for a 3-star resort with a 5-star focus on happy guests to take a look at the Manchebo Resort.

The resort is an oceanfront two-storey cresent-shaped resort with the ends facing the ocean. It is made of 6 blocks. Four of the blocks are facing the ocean and are considered superior and two blocks are facing the garden and are considered standard. The four oceanfront blocks make up the crescent (two on each side), while the other two blocks back the southern two oceanfront blocks. The superior and garden blocks are separated by a court with trees and some plants. The size of all the rooms are identical, except for two rooms that are a tiny bit larger and are also considered superior. Location is therefore the determining factor for a superior or standard classification. On the court side of the block is the entrance and the room runs right through to the patio/balcony door.

The resort contains 72 guest rooms with private patio or balcony, cable television, air-conditioning and ceiling fans, direct dial phones, safe deposit boxes and in-room refrigerators. There is also a gift shop, car rental and laundry facilities on the property, as well as an on-site Mermaid Sport dive shop.

Have a look at the resort map.
---
Notes/Hints/Tips/Opinions:
Manchebo is said to have the largest beach on Aruba. Their property is 14 acres and the beach alone is 10 acres. With 72 rooms and an average of 2 persons per room the maximum number of guests is about 144. That is 14.4 persons per acre - just to illustrate that they are not cramped for space.
The balconies are fairly large, enough for a few people to sit out on, and are open-railed so the view is quite unobstructed. Much larger balconies than the Hyatt offers.
To see the sunset from your room, most all the superior rooms are ideal.
When making a reservation guests can ask for a specific range of rooms and the resort will do all it can to honor that request; however, this is not guaranteed, because at times more than one guest might ask for the same room as they have a large percentage of "repeaters".
The in-room fridge is not an honor bar, it is empty for the guests own use.
The safes are large purse-sized and there is a key deposit. When the key is returned at check-out the key charge will be credited.
You can charge all your meals and drinks to your room. An incidental account needs to be opened before charges can be made.
The freshwater pool is your basic rectangular pool, but is quite close to all the units. The pool closes officially at 8 pm, mainly for the maintenance of the water. At this time, the water is chlorinated and it is not a good time to go swimming. If someone would like to go for a late night swim and can keep it quiet and does not disturb the other guests, there is no objection. This is strictly monitored by their security guard who is on property from 4 pm until 7 am the next morning.
The beach boys (staff, not the music band), who are looking after the lounge chairs, will take drink orders and bring them to the guests beachside.
Manchebo Beach's name comes up a lot in reference to topless bathing - their policy on topless bathing is quite simple. When lying on one of their lounge chairs they have no objection if one removes his/her top. However, they do not allow anyone to walk topless to the Pega Pega bar, sit down and order a drink or meal. This is strictly enforced.
Across the road from Manchebo is the Alhambra Casino and Shopping Bazaar, located directly behind the Bucuti Resort.
The resort just to the south of Manchebo, next door, is the Aruba Beach Club timeshare resort.
The General Manager, Ike Cohen, is considered by many on Aruba as the "Grandfather of the Hospitality Industry". Born in 1911, he and his now deceased wife Grete purchased the Strand Hotel in 1964. The Strand became later known as the Talk of the Town Hotel. A couple of years later they purchased the Manchebo Beach Resort and built it up to what it now is. Ike Cohen can still be seen daily on the property and oversees that superior quality service is offered to the guests.
---
Restaurants
Bistro Aruba

The ambience is casual and the bill of fare tropically eclectic at this patio restaurant, with specialized entertainment and dinner shows with unique themed additions to the menu. The Bistro serves breakfast from 7 am - 12 noon and dinner from 5:30 pm - 12 pm. The Bistro bar stays open until 1 am. The Bistro is closed on Tuesdays.

The French Steakhouse

For more gourmet dining; serving South American cuts of beef and continental cuisine complimented by an extensive wine list. Recently rated the #1 Highest Quality Food Restaurant on Aruba by Freeman Group from Houston, Texas, USA. The French Steakhouse, Home of the Churrasco, is open from 5:30 pm - 11 pm Tuesday to Sunday. Closed on Mondays. You can see the menu of the French Steakhouse at www.manchebo.com/steakhouse.html.
Free T-Shirt Coupon

Pega Pega

This beachside bar and grill, named after a friendly reptile indigenous to Aruba, serves light fare throughout the day. This is a bar where you can also mix with locals. Hours of operation are 10 am - 8 pm, under possiblity of extension. The very popular Sunday BBQ with live music is served in the Pega Pega every Sunday from noon until 4 pm.
---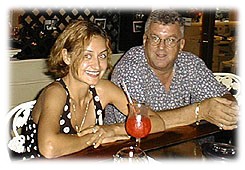 I'd like to say a special hello to Iryna, daughter of the General Manager, Ted Vander Post.


---
Why Pick Aruba? | General Info | Resorts | Restaurants | FAQ | Things to Do | What to Pack | Aerial Photos | Happy Hours | Trip Report | Thanks | Links | Site Map | Home |
---
This site went online 1999.
Photos by Patti MacK copyrighted 1999 and may not be used without permission.
DISCLAIMER

As information may not always be up-to-date, you are advised to use it as a guideline only. You will find e-mail and website addresses, as well as phone and fax #s included on this site - please use them to contact the particular resort/restaurant/business in person to confirm times, prices, and details. The webmaster, site owner, and Internet provider assume no responsibility for any damages or claims resulting in use of information contained in this site. If, in spite of every precaution, any copyrights have been infringed in this site or any borrowed photo uncredited, your notification with respect to photo credit or removal will be greatly appreciated.